Bright Lights Holiday Workshop and Show
Our next holiday workshop is in July 2022 ~ Monday, 11th July to Thursday, 14th July ~ PLEASE BOOK EARLY ~
See details below
Bright Lights is a provider for the Creative Kids voucher
Bright Lights conducts holiday workshops for primary and secondary age students. These workshops are a mixture of singing, dancing and acting with the emphasis on singing. Each workshop lasts for 4 days and concludes with a performance.
The aim of the workshop is for the students to have fun, to be creative, to interact with and support other students, to raise self-esteem, to improve their focus and concentration, to advance their acting, singing and dancing skill levels and to be involved in performance.
For the workshop performance each student is involved in a minimum of 5 performance items; the opening number, a musical theatre item, a song, a short reader's theatre type play and the dance finale.
Throughout the first three days students are placed in age-based groups and are rotated through the daily program of sessions of singing, musical theatre, dance and drama.
The Bright Lights holiday workshop employs 4 professional teachers. The students are rewarded with exposure to different styles and techniques. For the first 2 days there is one teacher dedicated to the younger children to settle them into the program. However, one of the most rewarding aspects of the holiday workshop is the interaction of the students from all age levels, especially the way the older children care for the younger members of the troupe.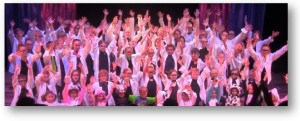 The first three days of the holiday workshop run from 9.00 a.m. to 3.00 p.m. The fourth day commences at 12 noon and concludes with the performance at 6.00 p.m. There is a wealth of activity and learning in the first three days and the fourth day is devoted to rehearsal in the theatre for the evening's performance. The students learn an incredible amount in four days and their level of performance is amazing given the short time to absorb new material, raise their skill level and focus on their performance. However, the main emphasis of the program is student enjoyment and teacher and peer support for all individuals and each item.

Holiday Workshop 2022
 11th – 14th July
Move into the depths of winter with plenty of singing, dancing and acting with the July Bright Lights Holiday Workshop. Once again we are offering 4 days of singing, acting, dancing and performing. Yes, we have returned to normal; having fun and being creative. This is a popular workshop so please book early.
SINGERS  ACTORS  PERFORMERS
Do you enjoy theatrical performance?     Are you looking for a holiday activity?
Bright Lights is offering a 4 day holiday workshop. The focus is on theatrical singing, dancing and acting.
Our theme is still to be decided.
Date:  Monday, 11th July to Wednesday, 13th July
Venue:  St. Finbarrs School Hall, Broken Head Rd, Byron Bay; opposite High School
Show:  Byron Bay Community Theatre on Thursday 14th July
Cost: $250.00
$30 Discount for Bright Lights or 2021  Workshop students
PLACES ARE DEFINITELY LIMITED ~ 

BOOKINGS ESSENTIAL
Enquiries and bookings to Brian Dale  (H) 6684 1932   (M) 0422 820 472